Saving Cybermed

A proposal to redefine the business process used by Cybermed to enable the company
to meet strategic goals and survive in the current business environment.

UMUC CSMN 637 -- Professor: Dr. Ed Fitzpatrick -- 21 April 1999

Submitted by:
Susan Anstead
Sandra Pierce
Rob Crittenden
Alan Harbaugh
Ravinder Singh
Sal Aurigemma

---
Table of Contents
Executive Summary
The Cybermed Vision
Industry Critical Success Factors
Performance Targets
Assessment of Current Business Opportunities and Threats
Statement of Problem Areas At Cybermed
Problem Area #1 – Immature Business Process
Problem Area #2 – Poor Communication
Problem Area #3 – Poor Project Tracking and Management
Implications
Proposed Solutions
Description of the Current Cybermed Business Process
Major Faults in the Current Cybermed Business Process
Process Improvement Requirements
Recommended Cybermed Business Process
GroupWare
Project Tracking and Status E-mail
Software Library and Code Re-Use
Discussion of Alternatives Considered
Sponsorship
Risk Management
Benchmarking
Financial Evaluation
Investment Considerations
Process Implementation Schedule
---
One of Cybermed's strategic goals is to become the dominant firm in the health services management software industry, and growth is key to meeting that goal. A detailed analysis of Cybermed's business activities and processes has revealed some disturbing problem areas that threaten the very survival of the company. At this juncture, any growth in the business Cybermed accepts incurs significant risks that will eventually cause irreparable damage to the company's reputation. Cybermed is simply not prepared to assume a larger role in the industry.
Several problem areas of concern are identified in this document. First and foremost, Cybermed suffers from a macro-level business process that is too immature for its current organizational state. The current "Cybermed Business Process" is stressed to its limits and will not allow growth. Second, organization-wide communication is very poor. Lateral department level communication is deficient, riddled with stovepipe communications methods and a lack of accountability. Departments do not understand how their own actions affect other departments or activities. Finally, overall project tracking and management is erratic and flawed, leading to an atmosphere of crises management and constantly shifting blame.
With the identification of these problems comes the opportunity for remarkable improvements that could be the catalyst for Cybermed meeting all of its strategic goals. The first recommendation is to redesign Cybermed's business process to incorporate teamwork and communication early in the project development phases. A recommended process is given in this document. To improve communication and group effectiveness, the installation of GroupWare is endorsed. Finally, the creation of a Software Library and a project tracking alert E-mail system are advocated to address specific problems identified in this document.
In the six short years of its existence, Cybermed has grown to become a successful company providing Health Services Management System software packages to health services providers. The company's strategic goals are to:
Maintain and enhance its reputation as a high quality provider of software to health services organizations at competitive prices.
Provide a positive work environment to maintain and attract outstanding employees.
Become the dominant firm in its market by emphasizing service to the customer.
Practice high ethical and moral standards in its work and business practices.
Industry Critical Success Factors
In order to thrive in the industry, Cybermed must:
Maintain a strong financial position.
Continually produce the highest quality software packages and services at reasonable prices.
Maintain an impeccable reputation with its customers.
Expand its market share to become the dominant health services software provider.
Performance Targets
To meet the above critical success factors in order to achieve its strategic goals, Cybermed must structure its business processes to meet the following performance targets:
Product delivery on time, on budget, every time.
Quality product output that enhances customer loyalty and Cybermed reputation by giving customers what they need and want.
Emphasis on customer service - favorable customer opinion every time, even for projects that are proposed but not chosen.
Efficient work processes leading to expansion in the industry:

Open and effective communication throughout Cybermed.
Minimize creeping project scope by getting client staff and Cybermed team involved early and often to identify all needs before the contract is signed. Negotiate changes to minimize cost increases and delays to product delivery.
Minimize risk in project planning by accurately assessing available assets and thorough project planning with all affected departments involved early in the planning process.
Ensure the right people are doing the right job.
Process modularity, such that growth in market share does not negatively affect product output in any manner.
Assessment of Current Business Opportunities and Threats
Market research indicates that Cybermed is currently in a favorable, yet tenuous, position in the health services software industry. Clearly, the company retains a competitive edge gained from early market entry and delivery of quality custom software. There is an increased demand for dependable health systems software, of which health service providers are willing to pay high prices for quality software. Yet, the growth of competition from highly capitalized subsidiaries of large corporations seeking entry into the lucrative health services market poses a major threat to Cybermed's continued success. An analysis of Cybermed's business health has identified some significant areas of concern that, if handled appropriately, could propel the company to the next level as the leader of the industry and the standard by which all competitors are compared.
Statement of Problem Areas at Cybermed
A thorough examination of the work activities at Cybermed has revealed the following significant flaws and opportunities that need to be addressed not only in order to meet strategic goals, but also to ensure survival of the company:
Problem Area #1: Immature Business Process. The business processes used during the lifecycle of a product were designed for and by Cybermed when it was smaller and in a less advanced organizational state. The company has grown too big and has goals too lofty to continue using business processes designed for a small group of individuals relying on face-to-face communications. In short, any growth by Cybermed dramatically increases the chances of significant failure. With relation to the modern business environment, the current process is flawed in the following ways:
Core activities are not designed with the optimal personnel in charge. One example is that the Account Executive (AE), a member of the Marketing Department, currently has too much input into the design of technical solutions.
Workflow is too often sequential, minimizing the potential gains of concurrent work processes and extending the costs and time required for project completion.
Client Support Services personnel are not getting involved in the projects early enough causing them to write manuals they to do not have the technical knowledge for.
Top technical staffers are being used primarily to install and troubleshoot initial software implementation at customer sites, vice using their expertise to develop software and support other critical business activities.
Problem Area #2: Poor Communication. Communication, organization-wide, is based mainly on verbal communications and email, both of which are stovepipe methods that do not offer timely and widest possible information dissemination. Specifics include:
Lateral communication flow between departments is deficient, as acknowledged at the senior executive level. Perishable information is being disseminated to responsible parties time-late thus limiting options for scheduling required actions.
Remote login capabilities and synchronous/asynchronous cross-departmental electronic group work forums are not available. Teamwork is a concept, not a practice.
Organizational rifts exist such that individual departments do not understand the impact of changes in their work processes upon the output of all other activities.
Problem Area #3: Poor Project Tracking and Management. Project management in the Software Department, and elsewhere in the organization, is poorly tracked and "crisis management" is the norm vice the exception. Specifics include:
While the Marketing department is using good client management software, the rest of the organization is lagging behind. The main cause of this is that there are no organizational rules established for project management and departmental project tracking interoperability.
Manpower management in the Software Department is especially troubling. The norm is to delay work on new projects until deadlines are rapidly approaching, then continue crisis management to meet the deadlines. The result is an increase in overtime, lower quality work output, and lower employee morale in the core business activity of the organization.
There is no evidence of the existence of a Software Library and code reuse in the Software Department. While each new project involves significant customization, code reuse could significantly reduce programmer workload and time to product delivery.
Implications
If the company continues to operate as it is currently doing and continues to accept more business, the outcome is certain - eventually Cybermed will fail to meet the needs of one or more clients, damaging the company's reputation irreparably. As the President recently pointed out in a meeting with department heads "One serious problem with a client would be all it would take for the company to damage its reputation and be overtaken by the competition…". With so much depending on the reputation of the company, steps must quickly be taken to minimize the risks of damaging the character of Cybermed.
Survival in the present business environment requires a significant change in Cybermed's core business processes. The task at hand is to redesign the overall Cybermed business process; to create one that not only allows survival but provides the tools for the eventual accomplishment of all strategic goals. The process recommended addresses each of the previously noted problem areas and gives the foundation necessary for Cybermed to meet its strategic goals. Additionally, the following relatively minor changes are necessary to support the process change:
· Installation of a GroupWare system on the existing LAN to facilitate effective communication throughout the organization.
· Better utilization of the current project tracking software to indicate when predetermined thresholds are crossed to promptly identify potential problems.
· Creation and maintenance of a Software Library for the software department.
Description of the Current Cybermed Business Process
It is prudent to first understand the current Cybermed Business Process (CBP) and recognize the significant problems. The activity model below provides a high level overview of the current business and communication processes (inter-department and client) required to develop and deliver software to a Cybermed Client. This model is limited to the key tasks in the process.
The activity model is presented in the ICOM IDEF modeling format. ICOM stands for Input, Control, Output, and Mechanism. A generic ICOM model that shows the relationships of the Input, control, output and Mechanism to the activity is show below.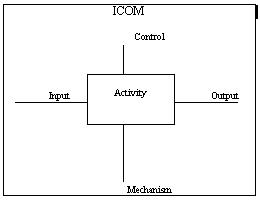 Input – That which will be transformed by the activity or process.
Control – Those elements related to the activity that constrain or govern how the activity will be conducted. Examples include policy, budget constraints, and customer requirements.
Output – The result of the activity. This is the input after it is transformed by the activity.
Mechanism – Those things that do or support the activity. This may be people, systems, facilities or equipment.
An abbreviated narrative is provided to better understand the activity diagram:
A0 – Develop Client Software
A1 – Develop Concept Solution
1.1 Marketing receives customer inquiry
1.2 Assign Account Executive (AE)
1.3 Contact potential or existing customer

1.3.1 Document meeting notes with Client Manager (CM) System
1.3.2 Updates CM database on Notebook PC
1.3.3 Transmits data to CM central database

1.4 Draft preliminary customer analysis (output)
1.5 Develop a concept solution (include estimated cost and schedule)

1.5.1 Contact Cybermed specialist for input
1.5.2 Send preliminary problem analysis to Cybermed specialists
1.5.3 Incorporate specialist comments and recommendation into proposal
1.5.4 Provide preliminary proposal to client
1.5.5 Accepts client order for system

1.6 Facilitates client meeting with Systems Executive (SE)

1.6.1 Participates in detailed technical analysis
1.6.2 Attends the last two technical meetings
A2 - Develop functional performance requirement document
2.1 Perform detailed problem analysis (Systems Executive)
2.1.1 Work with client technical staff and work group leaders
2.1.2 Draft a technical solution (output)

2.2 Prepare formal proposal (AE)

2.2.1 Review central CM database for proposal development/input
2.2.2 Review formal proposal with software department (telephone & e-mail)
2.2.3 Meet with Software Department to resolve issues and gain support for final proposal
2.2.4 Submit final proposal electronically to senior management for review and approval
2.2.5 Approve formal proposal (Cybermed Senior Management)
2.2.6 Notify AE formal proposal approved

2.3 Obtain signed contract from Client(AE)

2.3.1 Meet with client after senior management approval is received
2.3.2 Receive signed contract from client for system development and delivery
2.3.3 Review proposal with Software department
A3 - Develop Software for Client (Software Department)
3.1 Select project manager and support staff
3.2 Assign each project participant an e-mail account(s) according to project tasks
3.3 Monitor staff requirements as project progresses

3.3.1 Shift staff from other projects as delivery date nears
3.3.2 Track project resource and expense utilization
3.3.3 Update the CM central database with actual expenses
3.3.4 Generate various reports for Cybermed senior managers

3.4 Deliver software to client (Software Department)

3.4.1 Assign highly skilled technical staff for system installation and testing at client site
3.4.2 Fine-tune system for client
3.4.3 Obtain final approval and acceptance of system from Client
A4 – Prepare system manual and client training program (Client Services)
4.1 Develop system user guide
4.2 Develop client system training
Cybermed As-Is Business Process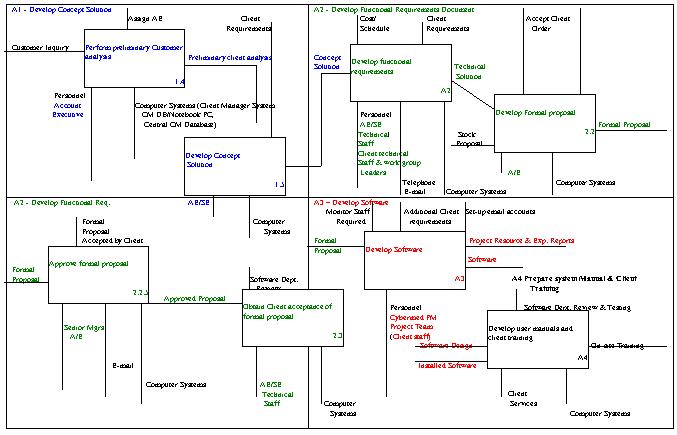 Major Faults in the Current Cybermed Business Process
The preceding diagram clearly shows many disturbing trends: Work flow is almost exclusively sequential; the Account Executive (AE) is tasked with developing and proposing technical solutions to potential clients; the Software Department is not involved in the business process until the AE seeks final proposal approval; available assets are not determined until the final proposal is accepted and after the timeline is drawn; client support staff are not involved in the design of developmental phases at all. Viewers can find at least one noteworthy fault in every activity. The fact is that the above process was viable when Cybermed was a small company where everyone knew each other's strengths and weaknesses. Now that Cybermed has grown, and wishes continued growth, something much change or catastrophic failure is imminent.
Process Improvement Requirements
The following process improvements are needed and included in the proposed process shell below:
Core Cybermed Process Teams (CPTs) are formed early in the inquiry and design phases. Core CPTs include at least one member from the Marketing, Systems, Client Services, and Software departments and are assigned for the duration of the project (or section of project). This design allows the following:

Cross-departmental communications via GroupWare keeping all necessary parties informed and increasing the overall organizational awareness.
The AE is now free from technical decision making and can focus on core skills of marketing, contract negotiation, and tracking customer satisfaction.
Verification of available assets via the central project tracking database early in the design process. Core team members will validate departmental availabilities.
Parallel path development after contract is signed.
Customers gain trust in the relationship with the core CPT enabling easier customer buyoff without the need for additional "expert" assistance.
The CPT concept is modular in nature - addition of new projects does not stress the overall work processes, merely the available personnel assets at Cybermed. Growth is not limited by procedural doctrine.

· Depending on the scope of the project, it may be broken down into sub-parts in order to foster parallel development.
· Creeping scope and late customer change requests will be minimized by early and detailed analysis with experts of both Cybermed and the client.
Recommended Cybermed Business Process
The below macro-level business process was specifically designed to enable Cybermed to meet its strategic goals based upon the identified critical success factors, performance targets, and current business environment. The three significant problems areas with the existing process are addressed with this process and the subsequent recommendations. A process narrative is provided to clarify the graphical representation and assist in old and new process comparison.
A0 Develop Client Software
A1 Define Project Scope
1.1. Customer contacts Cybermed
1.2. National Sales Manager assigns Account Executive (AE)
1.3. Meet with customer
1.4. Determine general scope of project
1.5. Update Cybermed database from Notebook PC with preliminary customer analysis
1.6. Develop a concept solution (include estimated cost and schedule)

1.6.1 Assign Systems Executive (SE)
1.6.2 SE meets with customer and AE to perform initial evaluation
1.6.3 Develop preliminary problem analysis with SE
1.6.4 Determine if customer is interested in continuing proposal process
A2 Draft Proposal
2.1. Assign core CPT
2.2. Perform detailed analysis and design with customer

2.2.1 Work directly with client technical staff and work group leaders on design
2.2.2 Use standard Cybermed system as basis for labor and system costs
2.2.3 AE uses CPT labor and time estimates to calculate pricing and draft initial proposal
2.2.4 AE and CPT check for resource availability in Cybermed database to avoid double-allocation of resources.

2.3. Submit proposal with cost and timeline to customer
A3 Sign Contract
3.1. Review proposal with customer. Cybermed management reviews proposal terms.

3.1.1 Meet with customer and AE to iron out any last-minute changes
3.1.2 Determine if any pricing or time changes are necessary
3.1.3 Make changes to proposal

3.2 Submit final proposal electronically to senior management for review and approval

3.2.1 Senior management approves send final contract to customer for signing
3.2.2 Senior management denies

3.2.2.1 CPT and AE meet with senior management to determine reasons for denial and change proposal as necessary.
3.2.2.2 Return to A3
A4 Develop System
4.1. Assign Project Manager
4.2. Assign additional staff as project requires
4.3. Create project environment in Cybermed development system

4.3.1 Development environment
4.3.2 Integration Environment
4.3.3 Testing Environment
4.3.4 Production Environment

4.4. Develop Software
4.5. Develop training
4.6. Develop user manual and other documentation
4.7. Project Manager updates Cybermed database with progress
4.8. Project Manager meets with clients periodically to provide status
A5 Deliver System
5.1. Subset of CPT goes on site to customer

5.1.1 Install software and do final integration
5.1.2 Execute training
5.1.3 Deliver software manuals and documentation

5.2. Obtain signoff from customer of delivered product
5.3. CPT members are put back into pool of available resources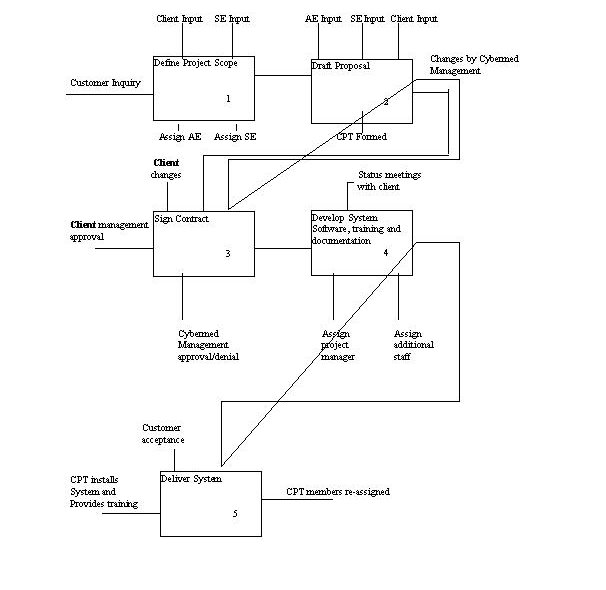 GroupWare
GroupWare is the convergence of many communication technologies developed to support the three primary methods of group interaction: communication, coordination, and collaboration. Functions of GroupWare include: messaging; scheduling; synchronous and asynchronous conferencing; workflow monitoring; and document management. These functions are an ideal match with the recommended business process changes.
The GroupWare eventually selected must be compatible with and enable effective communication across all current Cybermed organizational hardware and operating systems. To that end, it is recommended that the GroupWare be mature and recognized amongst the industry leaders in its field. To simplify financial estimates, the highly recognized Lotus Notes/Domino has been arbitrarily chosen, but the recommendation is to research available GroupWare packages to identify those that best match and enhance the main Cybermed business processes.
Project Tracking and Status E-mail
Automated warning e-mails should be sent to senior executives and managers whenever critical project thresholds are violated. The changes necessary to implement the new alert system are relatively minor from an IT standpoint. The existing database will need to be enhanced to include a threshold value field that will represent, for example, the percentage difference between actual and expected work completed or actual versus expected project costs. Thresholds can be altered for individual projects or use an approved standard rule set. The current weekly reporting system will continue with access available to all individuals involved in the various projects.
Software Library and Code Re-Use
The goal of this system is to eventually have a software library that meets all needs of any potential Health Service Management System software package. Rather than writing code from scratch for each customized project, the software developers can rely on existing, proven code as a base for enhancements. Programmer workload will decrease significantly and time to market for software products will shorten considerably. Programmers will spend less time performing trivial code generation and more time focusing on specialized client requests, thus creating a more challenging work environment and increasing morale. Additionally, late change submissions to project scope will be easier to fit into current project schedule.
Discussion of Alternatives Considered
It is readily acknowledged that Fourth Generation Languages (4GLs) provide a structured and consistent approach to developing applications. 4GLs' self-documenting features and non-procedural framework enable the creation of cross-platform applications that are easy to maintain and modify. Similarly, a Computer Aided Software Engineering (CASE) system can reduce or eliminate quality and productivity problems in software development through a variety of methods including code re-use, greater emphasis on analysis and design, and process automation.
Cybermed should consider implementing a 4GL or CASE development environment in the future. After consideration of the immediate implications of using these tools, we recommend against their use at this point based on the following reasons:
All the corporate expertise in programming is based upon COBOL. Changing programming methodologies and/or languages prior to correcting the business process will cause significant slowdown in current work and negatively impact customer service. Also, employee moral may suffer with such a sweeping change in programming skills required.
There is a very significant investment in both equipment and training required to switch to efficient use of the new tools and languages. While the gains from such a switch may be potentially great, the disruption of current project administration and customer support will be immediate and significant.
Switching to a new programming language would require a support system be maintained for current customers with long term service/support contracts. The transition to a new programming language has to be seamless such that customer loyalty is retained and Cybermed's reputation is not tarnished.
Sponsorship
The necessity of organization-wide acceptance and the significant scope of the process changes needed delineates that the President of Cybermed must sponsor and wholeheartedly support this process reengineering effort.
Cybermed has earned the reputation of providing effective software solutions in the health services management industry at reasonable prices. This reputation is the foundation of the company's current success and the key to future growth in the industry. Recently, Cybermed has seen its market share attacked by aggressive competition to the point that the company is taking considerable risks in an effort to expand its customer base. The source of these risks has been identified in this document and the recommended solutions address the internal issues affecting risk levels.
To ensure the Cybermed Business Process is continuously meeting the needs of the company, semi-annual review of work processes should be conducted during the scheduled process refresher training to make corrections. The goal is to ensure Cybermed never makes the same mistake of utilizing processes that do not support strategic goals nor meet performance targets.
There are currently no Benchmarking standards being used by Cybermed. An external consulting firm should be hired to provide such services. With product lifecycle decreasing and competition increasing, it is very important that Cybermed be aware of the status of its processes with respect to its competitors and customer expectations. While the health services management software industry is relatively young, there is a wealth of experience with software development in other industries that can be directly applied to Cybermed's internal processes.
| | | | | |
| --- | --- | --- | --- | --- |
| Description | Time | Cost | Quantity | Total Cost |
| Initial training for new process | 1week | 500 | 200 | 100,000 |
| Follow-up training | 2 days | 200 | 200 | 40,000 |
| Refresher training | 3 days | 300 | 200 | 60,000 |
| Lotus Notes Multiprocessor License | | 2295 | 1 | 2,295 |
| Lotus Notes/Domino Client License | | 69 | 200 | 13,800 |
| Domino Server License | | 1795 | 1 | 1,795 |
| Lotus Notes/Domino Support contract | | 2484 | 1 | 2,484 |
| Lotus Notes/Domino Implementation | 2 days | 5000 | 1 | 5,000 |
| Lotus Notes/Domino training basic | 1/2 day | 100 | 200 | 20,000 |
| Lotus Notes/Domino training advance | 1/2 day | 100 | 50 | 5,000 |
| Lotus Notes/Domino training advance | 1/2 day | 100 | 50 | 5,000 |
| Software Library development | 4 weeks | 8000 | 3 | 24,000 |
| Lost man-hour cost for initial training | 1 week | 1871 | 200 | 374,135 |
| Lost man-hour cost for refresher training | 2 days | 374 | 200 | 74,827 |
| Total: | | | | $783,336 |
| | | | | |
| 2nd through 5th year costs | | | | |
| New employee orientation (10% turnover) | 1 week | 500 | 20 | 10,000 |
| Refresher training | 3 days | 300 | 200 | 60,000 |
| Lotus Notes/Domino Support contract | | 2484 | 1 | 2,484 |
| Lotus Notes/Domino training basic | 1/2 day | 100 | 20 | 2,000 |
| Lotus Notes/Domino training advance | 1/2 day | 100 | 5 | 500 |
| Lost man-hour cost for refresher training | 2 days | 374 | 200 | 74,827 |
| Total: | | | | $149,811 |
Assumptions:
All 200 employees will go through the new process training.
The training will take place on Cybermed site so no additional cost for travel etc.
Lost man-hour cost includes total salary plus benefits for the employees.
After initial implementation of Lotus Notes/Domino, the on-going maintenance will be done by Cybermed Information Management staff.
The follow-up training will be done 3-6 months after the initial training.
The refresher training will begin 6 months after the follow-up training, three times a year with each employee attending at least two sessions on an yearly basis.
Implementation of Lotus Notes/Domino assumes that the required hardware and LAN requirements are in place and no additional cost will be incurred for these items.
Investment Considerations
There is no accurate means of predicting the total tangible return on investment and payback period for the investment in the new Cybermed Business Process or its corollary solutions. The investment simply ensures Cybermed's survival in the current business environment and allows for the desired growth set forth in the strategic goals. It is recommended that an accurate assessment of process costs and gains be performed after six months of using the new process. Project tracking data will identify the average time to market and final costs of product delivery for projects utilizing the recommended process. These values can then be compared to historic project data to determine the 6 month ROI and expected payback period.
Process Implementation Schedule
The attached schedule addresses the following recommended actions:
Creation of Software Library – will include compilation and sorting of existing code; development of new centralized data storage system; regular maintenance to update database and remove redundant code.
GroupWare selection and installation – will include research and approval of a GroupWare product; research and contracting with an outsource vendor to perform installation; actual installation; training on GroupWare (to be conducted along with new Cybermed Business Process training).
Project tracking and status updates – will include meeting with senior executives and managers to determine baseline thresholds for warnings; development and approval of format; presentation to concerned parties; rollout of final alert system.
Training on the new Cybermed Business Process – will include training on the concepts of the new process and teamwork essentials; three separate sessions are given to ensure the entire staff is trained while ongoing projects continue/finish; follow-up training (lasting 2 days) will be conducted approximately 3 - 6 months later; refresher training and improvements to the new process to be conducted every 3-months, but only to be attended by all employees 2x a year (lasting 3 days); new employees will be trained as part of their current orientation training.